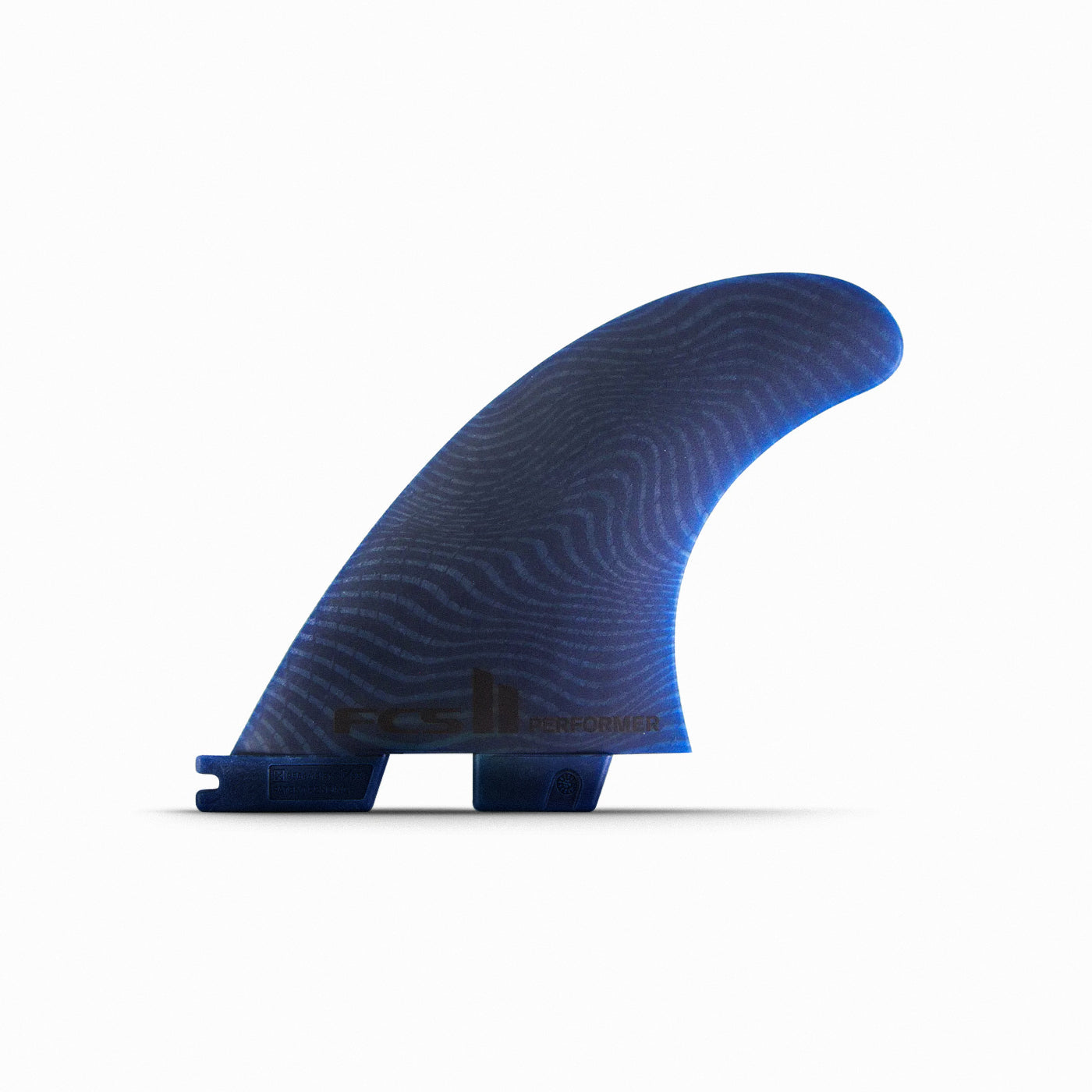 FCS II Performer Neo Eco Glass Thruster Set
– Designed for a balance of speed, flow & response. The Performer features a well proportioned template with Inside Foil Technology (IFT). Ideal for surfers who want a reliable 'All Round' fin delivering a combination of speed and
manoeuvrability
with flow between turns. New Linear Flex: 3D Twist and roll action delivers a smoother feel.
Ideal Conditions
A wide range of conditions from beach breaks to point breaks.
Board Types
Designed to fit the FCS II Fin System.

Recommended for all board types.

Fin Family and Specifications
Reactor: Performer: Find Balance. A balance of speed, flow & response.
X-Small
Base: 4.13" / 105mm

Depth: 4.03" / 109mm

Area: 13.26"² / 8554mm²
Sweep: 33.7º
Foil: IFT
Small
Base: 4.25" / 108mm

Depth: 4.33" / 112mm

Area: 14.03"² / 9054mm²
Sweep: 33.7º
Foil: IFT

Medium
Base: 4.37" / 111mm

Depth: 4.55" / 115mm

Area: 14.81"² / 9554mm²
Sweep: 33.7º
Foil: IFT

Large
Base: 4.48" / 114mm

Depth: 4.67" / 118mm

Area: 15.58"² / 10054mm²
Sweep: 33.7º
Foil: IFT

X-Large
Base: 4.59" / 117mm

Depth: 4.78" / 121mm

Area: 16.36"² / 10554mm²
Sweep: 33.7º
Foil: IFT
Neo Glass
Neo Eco Glass At FCS, we've made it our mission to minimise our footprint by designing high quality products that use low impact, sustainable materials. Constructed with 50% glass and bio-resin, the Neo Glass Eco Blend range has a low impact construction with high impact performance that's recommended for lighter more agile surfers. The new range also sees reduced use of fossil fuels and a smaller carbon footprint than traditional materials.