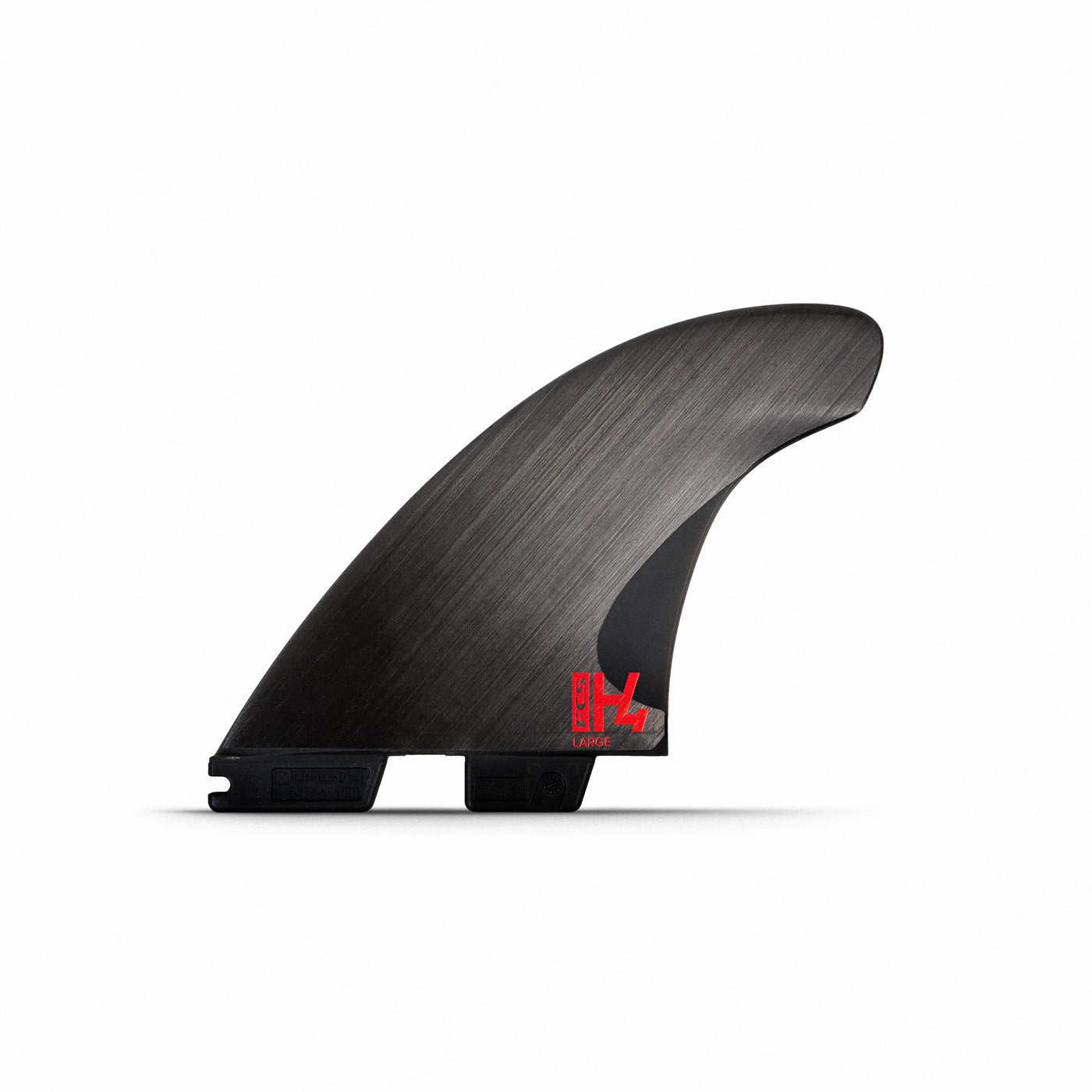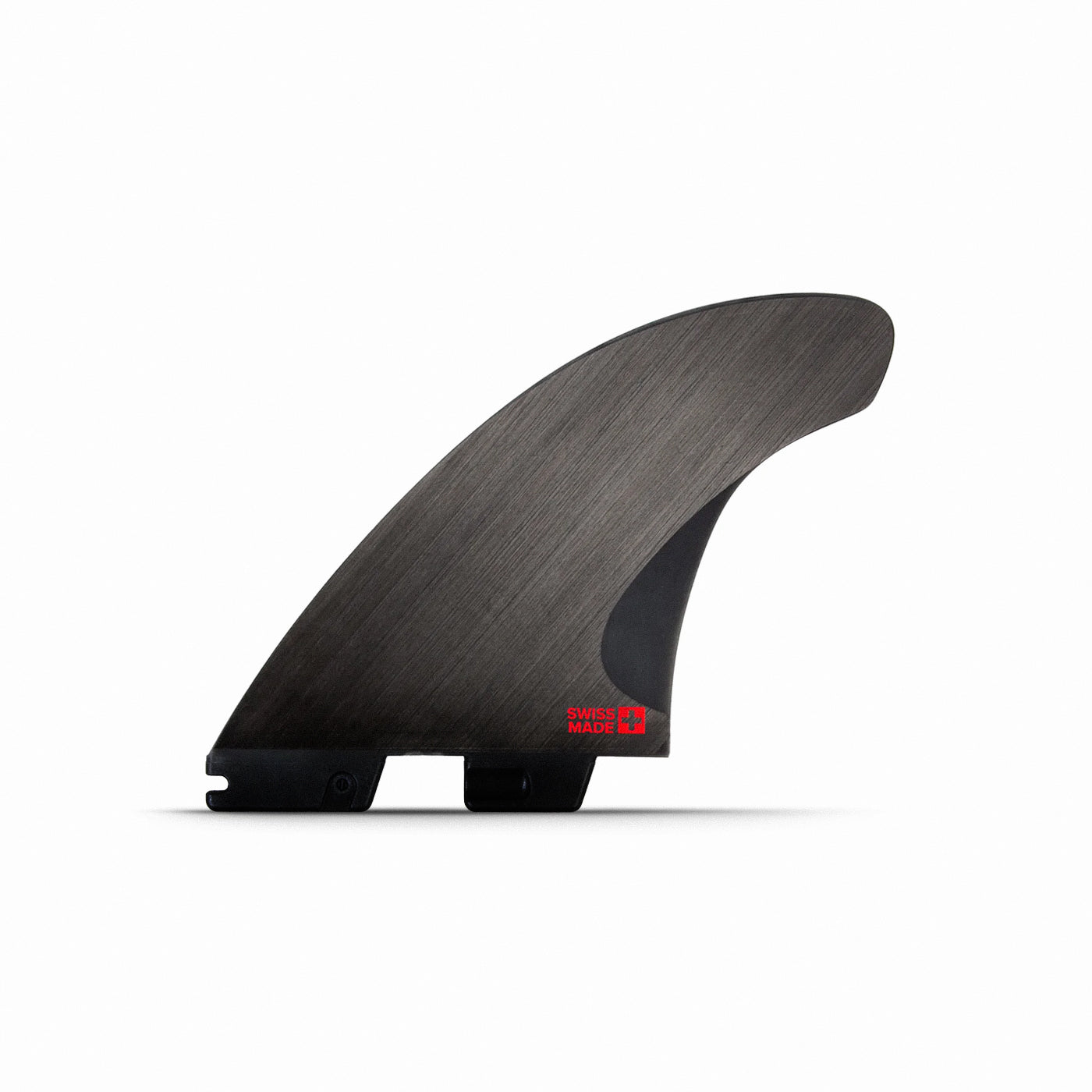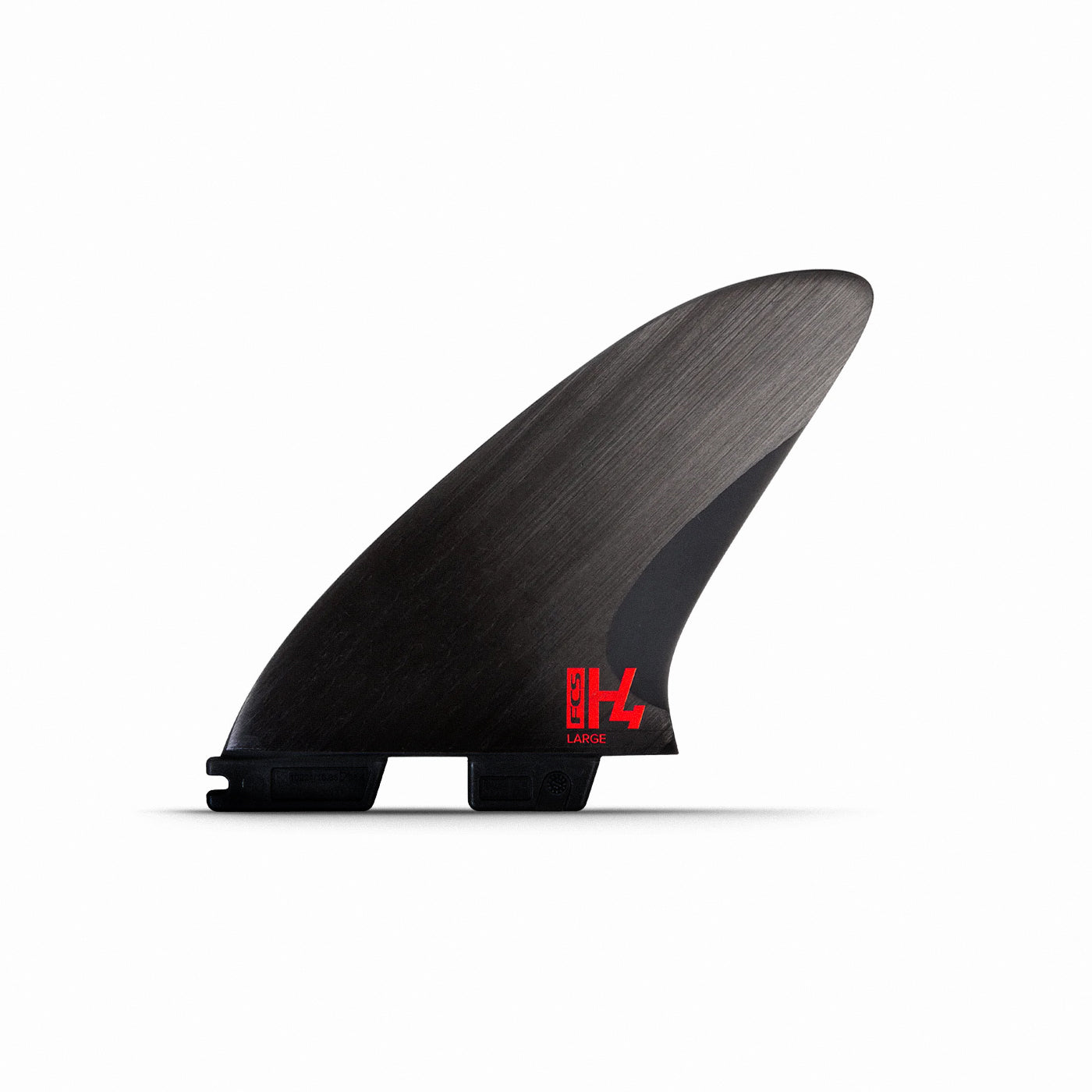 FCS II H4 Smoke Thruster Set
– The H4 looks and surfs different to any other fin. Precision Swiss engineering matched with a highly evolved template provides an unprecedented level of control and predictability at high speeds.
Radically different side & centre fin templates create a powerful fin set with ultimate speed & drive.

Side Fin Profile: Lower section produces maximum acceleration, while hatchet like tip creates stability & control.

Centre Fin Profile: Highly raked elliptical outline reduces drag, and offers feeling of predictability when releasing through turns.

Fin Foil Template: Thicker base with tapered tip optimises flex & regulates the release of energy during rail to rial transitions.
Ideal Conditions
A wide range of conditions, particularly good in critical overhead waves.
Board Types
Designed to fit the FCS II Fin System.

Recommended for performance shortboards with moderate-to-low rocker.

Fin Family and Specifications
Accelerator: Find Control. Speed, flow and response with added control.
Small
Sides
Base: 4.36" / 110.6mm
Depth: 4.34" / 110.1mm
Area: 14.29"² / 9221mm²
Sweep: 38.3º
Foil: Flat

Centres
Base: 4.29" / 108.8mm
Depth: 4.49" / 113.9mm
Area: 13.82"² / 8917mm²
Sweep: 37.2º
Foil: 50/50

Medium
Sides

Depth: 4.45" / 113mm
Area: 15.07"² / 9721mm²
Sweep: 38.3º
Foil: Flat

Centres
Base: 4.40" / 111.7mm
Depth: 4.61" / 117mm
Area: 14.58"² / 9405mm²
Sweep: 37.2º
Foil: 50/50

Large
Sides

Base:
4.59" / 116.5mm
Depth:
4.57" / 115.9mm
Area:
15.84"² / 10221mm²
Sweep:
38.3º
Foil:
Flat
Centres
Base:
4.52" / 114.6mm
Depth:
4.73" / 120mm
Area:
15.33"² / 9893mm²
Sweep:
37.2º
Foil:
50/50
New Construction
Precision Swiss Engineered:

Creates perfect synergy between fin geometry & HI-FI materials, giving smooth & predictable feel.

High Density Uni-Directional Carbon Fibre:
Light & super strong with custom orientation to transfer more of your energy into speed than any other fin.

Dynamic Trailing Edge:
Internal composite morphs under extreme load, enabling the fins to be pushed harder without sliding out.

Innovative Production:
Highly specialised robotic automation combined with camera assisted quality control, ensures absolute accuracy.